The Arctic has descended: North America, Northern Asia, and much of Europe are suffering unprecedented chills and massive amounts of snow.
Germany and the Netherlands were hit by "huge snowstorms" on Sunday, Feb. 7, bringing parts of the countries to a standstill, reports euronews.com.
Holland's meteorological agency (KNMI) issued an extremely rare code red alert throughout the country over the weekend, which experienced its first substantial snowstorm in more than a decade.

It seems the Netherlands is getting completely covered in ice and snow this year pic.twitter.com/q6cM8Qf6Ni— Nic (@nicolec42) February 8, 2021

The Dutch government closed all coronavirus testing centers for the foreseeable due to the severity of the weather, with sub-zero temperatures expected for at least the next 10 days.
Flights have been cancelled at Amsterdam's Schiphol airport, while Eindhoven airport has been closed.
All train services have also been cancelled.

Schiphol is covered in snow. We are working day and night to make air traffic possible. Looking at the forecast, flights may be delayed or cancelled tomorrow, Monday February 8th. For questions about your flight please contact your airline. pic.twitter.com/9hryHRu15C— Schiphol (@Schiphol) February 7, 2021

The German Weather Service (DWD) was pleading with people to stay at home. While authorities up and down the country were tasked with ushering the homeless into warm shelters amid the unprecedented conditions.
Hundreds of accidents and injuries have been reported, with many classed as "severe".
In Germany's western city of Muenster the streets were reportedly buried under so much snow that ambulances couldn't get through, and all public transportation was shut down — more than 1 meter (over 3 feet) of global warming goodness was registered in some parts–and that was on Saturday alone, more snow fell throughout Sunday and was still falling into Monday.

#snow #schnee #icecold #eiskalt #Germany #Kierspe #rönsahl #goldenesdorf pic.twitter.com/2kB3RcTaWW— Sinan (Investor) (@sinanmarjinal) February 8, 2021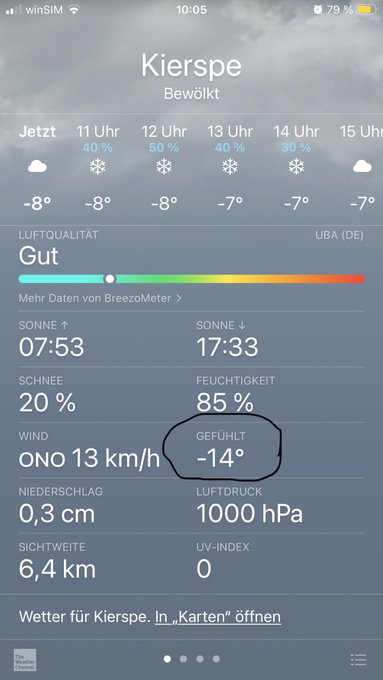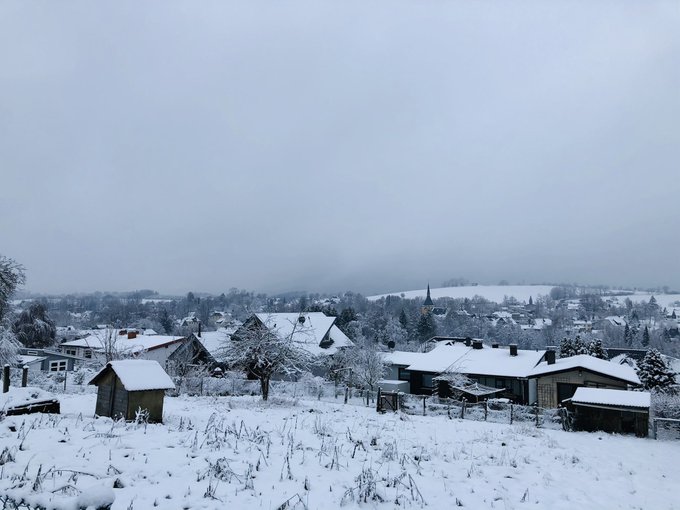 The UK is another nation currently copping a polar blasting.
Scotland's sensational winter snowfall is continuing, reports inthesnow.com, with what is now, after nearly two months of largely sub-zero temperatures, "one of the longest spells of cold snowy weather this century."
The country's five commercial ski centers are posting astonishing snow totals (see featured image), with rare avalanche warnings issued across the higher elevations.

Pictures from closed @CairngormMtn in Scotland today – the base buildings and clearing the access road. pic.twitter.com/L3qWgiuLpP— Snow Forecast.com (@SnowForecast) February 6, 2021

Laughably, Britain's chill began back in mid-December, 2020–around the time the UK Met Office announced that anthropogenic global warming would render British snow a thing of the past by 2040-2060.
And on top of the record snow, record cold is also sweeping the nation, with even the low elevations of South West England suffering daytime feels-like highs of -5C (23F).
The UK's Arctic blast is forecast continue for at least the remainder of the week (see GFS below), with the February freeze following what was an anomalously cold month of January — the Central England Temperature (CET) finished up at just 3.1C which is some 0.7C below the 1961-1990 average (an historically cool era btw). This reading means last month was the coldest January since 2010 and before that since 1987 (the CET is the longest running temperature dataset in the world, it goes all the way back to 1659, and note: the Jan, 1659 CET was 3C–very similar to 2021's).

Wrap up Europe:


Wrap up North America, too:


The COLD TIMES are returning, the mid-latitudes are REFREEZING in line with the great conjunction, historically low solar activity, cloud-nucleating Cosmic Rays, and a meridional jet stream flow (among other forcings).

According to the Climate Change Institute at the University of Maine, today (Feb. 8) our planet is running at just 0.1C above the 1979-2000 average. #GlobalCooling #GrandSolarMinimum #GrowYourOwn pic.twitter.com/fsckrsQZZ3— Electroverse (@Electroversenet) February 8, 2021

Both NOAA and NASA appear to agree, if you read between the lines, with NOAA saying we're entering a 'full-blown' Grand Solar Minimum in the late-2020s, and NASA seeing this upcoming solar cycle (25) as "the weakest of the past 200 years", with the agency correlating previous solar shutdowns to prolonged periods of global cooling here.
Furthermore, we can't ignore the slew of new scientific papers stating the immense impact The Beaufort Gyre could have on the Gulf Stream, and therefore the climate overall.


Prepare accordingly— learn the facts, relocate if need be, and grow your own.

Social Media channels are restricting Electroverse's reach: Twitter are purging followers while Facebook are labeling posts as "false" and have slapped-on crippling page restrictions. EV has also been blacklisted by ad networks, meaning the site is no longer allowed to run advertising.
So, be sure to subscribe to receive new post notifications by email (the box is located in the sidebar >>> or scroll down if on mobile).
And/or become a Patron, by clicking here: patreon.com/join/electroverse.
The site receives ZERO funding, and never has. So any way you can, help us spread the message so others can survive and thrive in the coming times.

Grand Solar Minimum + Pole Shift

https://electroverse.net/electroverse-has-been-demonetized/embed/#?secret=qyoJ3uzmkr
The post The Arctic has Descended: Snowstorms and Ice bring much of Europe to a Standstill appeared first on Electroverse.
via Electroverse