According to the UK Met Office, snowfall in Britain will be a thing of the past by 2040-2060 — a ludicrous, fear-mongering prophesy, and one almost as stupid as the claims made by senior climatologist Dr David Viner of the Climate Research Unit (CRU) of the University of East Anglia.
Back in 2000, and as reported by the Telegraph (since deleted), Viner said: within a few years winter snowfall will become "a very rare and exciting event," adding that "children just aren't going to know what snow is."
Frustratingly, these hacks are never called to task, their mistakes and dud-research seldom analysed or investigated. Instead, the cycle is simply one of rinse and repeat: the global warming cabal call-up their next set of "higher-educated" brainwashees who go on to use the exact same flawed upside down pyramid built on the work of just a few climate modelers to make the exact same tired-old doomsday predictions–such as "the end of snow".
Just yesterday, January 25, a severe weather warning was in place across a large portion of the UK as heavy snow threatened.
The pow-pow duly arrived early Sunday morning with some regions, particularly those in central England and Wales, registering accumulations of 5+ inches (13+ cm) in just an hour and a half.
Good 15cm of snow yesterday has left the valley looking like a Christmas card this morning #uksnow #welland #Rutland pic.twitter.com/pBtOChdjTw— Sarah Bell (@Sarahbellagri) January 25, 2021

By midday much of Britain was covered in white, including London:

Roads soon became impassible.
And even a gritter lorry overturned in Devon, South West England:

Significant risk of ice on untreated and treated roads this morning and through the day. Pic shows one of our gritter fleet overturned on the Holne Road – driver ok. Avoid travel unless absolutely essential, do not travel to find snow, and stick to the COVID-19 guidance. pic.twitter.com/6123nbbVyO— Devon County Council (@DevonCC) January 24, 2021
Overturned gritter lorry at Holne, edge of Dartmoor pic.twitter.com/FZmb1tqatJ— lomelindi12 (@lomelindi12) January 24, 2021

Emergency services are warning people to avoid travel unless absolutely necessary as bone-chilling temperatures and therefore ice has accompanied the snow.
The mercury bottomed out at around -15C (5F) late last night, with all four home nations registering temperatures well-below zero (C).
Furthermore, Central England –with its longest-running temperature record in the world– is currently on for its coldest month of January since 1997 (solar minimum of cycle 22), and its fourth coldest since 1980 — but apparently sub-zero temperatures and snowfall will be nonexistent in just 19 short years… um… no, just no: genuine scientific endeavors suggest the exact opposite will occur, with evidence at the start of 2021 only supporting the hypothesis.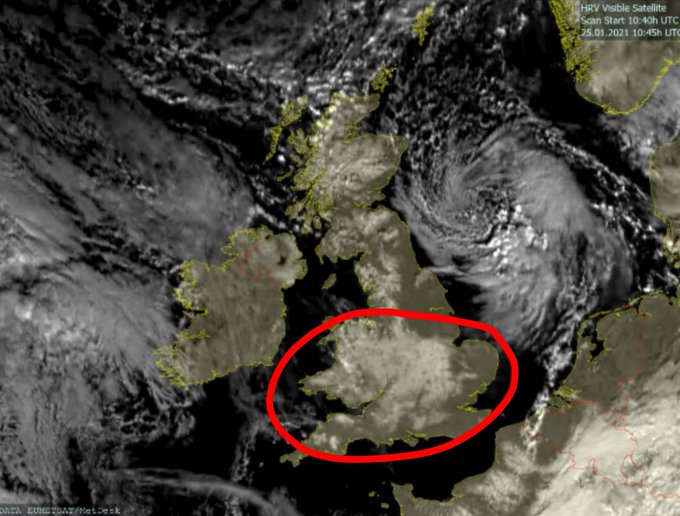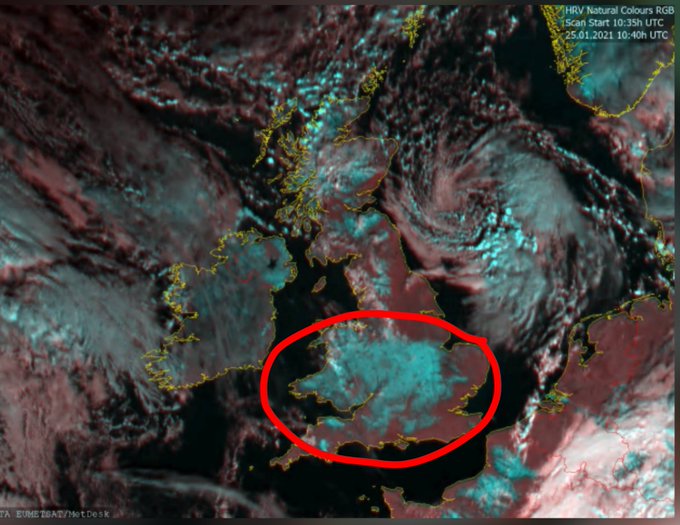 The COLD TIMES are returning, the mid-latitudes are REFREEZING in line with the great conjunction, historically low solar activity, cloud-nucleating Cosmic Rays, and a meridional jet stream flow (among other forcings).
Both NOAA and NASA appear to agree, if you read between the lines, with NOAA saying we're entering a 'full-blown' Grand Solar Minimum in the late-2020s, and NASA seeing this upcoming solar cycle (25) as "the weakest of the past 200 years", with the agency correlating previous solar shutdowns to prolonged periods of global cooling here.
Furthermore, we can't ignore the slew of new scientific papers stating the immense impact The Beaufort Gyre could have on the Gulf Stream, and therefore the climate overall.


Prepare accordingly— learn the facts, relocate if need be, and grow your own.

Social Media channels are restricting Electroverse's reach: Twitter are purging followers while Facebook are labeling posts as "false" and have slapped-on crippling page restrictions. EV has also been blacklisted by ad networks, meaning the site is no longer allowed to run advertising.
So, be sure to subscribe to receive new post notifications by email (the box is located in the sidebar >>> or scroll down if on mobile).
And/or become a Patron, by clicking here: patreon.com/join/electroverse.
The site receives ZERO funding, and never has. So any way you can, help us spread the message so others can survive and thrive in the coming times.

Grand Solar Minimum + Pole Shift
Featured image: meteorologist Scott Duncan hilariously wearing his Ed Hawkins AGW "show your stripe" mask out in the heavy London snow. [Ed Hawkins is a fully-indoctrinated climate alarmists working at University of Reading trying to convince us all that warmth is bad for life on planet Earth]
The post "Do Not Travel" warnings issued as Heavy Snow Blankets majority of Britain appeared first on Electroverse.
via