As originally reported by inthesnow.com, ski areas in the Alps and Pyrenees have reported yet another pre-main-season snowfall event to start this week, with the snow falling down to resort level in many parts. 
There was heavy snowfall in the Western Alps and Pyrenees on Monday and then heavier snow was registered further east on Tuesday–falls that add to the incredible early-season snowpack building over the higher elevations of Europe:

Third! Autumn Snowfall Event Leaves Europe's Alpine Glaciers in "Great Shape"

Official snowfall stats aren't usually reported this early into the season, but numbers of up to 20cm (8 inches) were widely registered across the Austrian and Italian peaks, with some areas saying they had received 80+cm (nearing 3 feet) by Tuesday morning.
Austria's Stubai glacier was one such area, with the resort's official Facebook account posting this video:


https://www.facebook.com/v2.2/plugins/video.php?allowfullscreen=true&app_id=&channel=https%3A%2F%2Fstaticxx.facebook.com%2Fx%2Fconnect%2Fxd_arbiter%2F%3Fversion%3D46%23cb%3Df38a28a5051a64%26domain%3Dwordpress.com%26origin%3Dhttps%253A%252F%252Fwordpress.com%252Ff35cc09206a9a78%26relation%3Dparent.parent&container_width=720&href=https%3A%2F%2Fwww.facebook.com%2Fschifahren.stubaiergletscher%2Fvideos%2F10158174137242753%2F&locale=en_US&sdk=joey

Hintertux, also located in Austria, rivaled Stubai's totals, reporting 75cm (2.5 feet) early Tuesday:

https://platform.twitter.com/embed/index.html?dnt=true&embedId=twitter-widget-0&frame=false&hideCard=false&hideThread=false&id=1321056782874222592&lang=de&origin=https%3A%2F%2Fwordpress.com%2Fread%2Ffeeds%2F85002459%2Fposts%2F2990502293&theme=light&widgetsVersion=ed20a2b%3A1601588405575&width=550px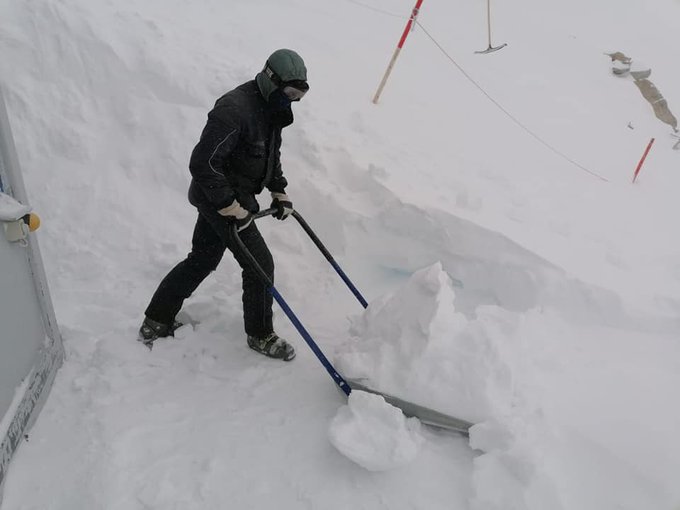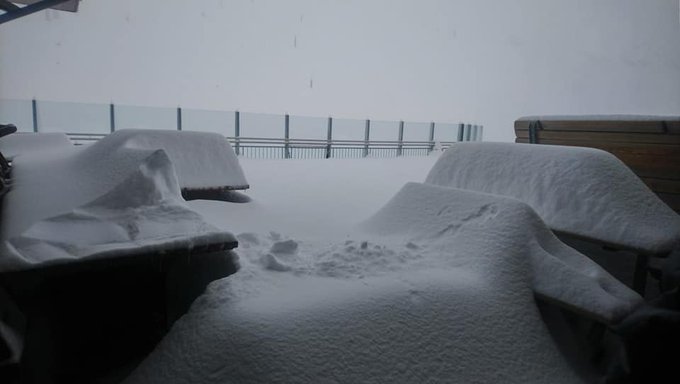 Even low lying areas such as Mayrhofen witnessed heavy snow to start the week, all the way down to resort level, reports inthesnow.com.
In total, around 25 ski areas are already open in the Alps and Scandinavia, and the first ski areas have also opened in U.S. and Canada where recent vast accumulations of record-smashing snow has helped drive the Northern Hemisphere Total Snow Mass to a staggering 300 gigatons above the 1982-2012 average:

Northern Hemisphere Total Snow Mass is ALREADY 300 Gigatons above the 1982-2012 Average
https://electroverse.net/snow-mass-already-300-gigatons-above-1982-2012-average/

The COLD TIMES are returning, the mid-latitudes are REFREEZING in line with historically low solar activity, cloud-nucleating Cosmic Rays, and a meridional jet stream flow.
Both NOAA and NASA appear to agree, if you read between the lines, with NOAA saying we're entering a 'full-blown' Grand Solar Minimum in the late-2020s, and NASA seeing this upcoming solar cycle (25) as "the weakest of the past 200 years", with the agency correlating previous solar shutdowns to prolonged periods of global cooling here.
Furthermore, we can't ignore the slew of new scientific papers stating the immense impact The Beaufort Gyre could have on the Gulf Stream, and therefore the climate overall.


Prepare accordingly— learn the facts, relocate if need be, and grow your own.

Social Media channels are restricting Electroverse's reach: Twitter are purging followers while Facebook are labeling posts as "false" and have slapped-on crippling page restrictions.
Be sure to subscribe to receive new post notifications by email (the box is located in the sidebar >>> or scroll down if on mobile).
And/or become a Patron, by clicking here: patreon.com/join/electroverse, and/or consider "allowing ads" for http://www.electroverse.net if you use a blocker.
The site receives ZERO funding, and never has. So any way you can, help us spread the message so others can survive and thrive in the coming times.

Grand Solar Minimum + Pole Shift

The post FOURTH! "pre-main-season" Snowfall event buries the Alps under ANOTHER 3-Feet appeared first on Electroverse.