An unseasonal low-pressure system brought isolated showers and thunderstorms to Cyprus, mainly in the mountains and inland, on Wednesday, July 8, 2020. Cyprus Department of Meteorology chief Kleanthis Nicolaides said the weather left experts puzzled as such systems are only common during the winter season and not in July when temperatures reach their yearly high.
Although it's not unusual for the country to experience summer showers, the rain and thunderstorms this time around came from a low-pressure system that is common during the winter season.
"We wouldn't say [the weather] has gone crazy, but it is certainly not behaving according to the textbook either," Nicolaides told the Financial Mirror.
"It is not normal to be affected by a winter pressure system during the summer, bringing temperatures down from 41°C to 35°C (105.8 °F to 95 °F) in a matter of days, only for them to go back up to 41°C (105.8 °F) this weekend when the system retreats."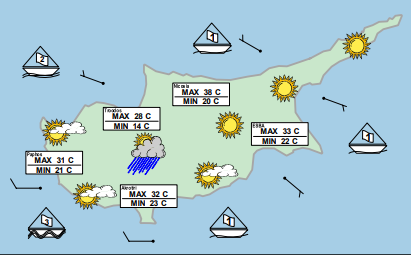 Nicolaides added that such phenomena are not common to the region and the country, noting that they usually occur in northern parts of the Earth, like the Scandinavian region.
"It is rare for central Europe. Definitely not the Eastern Mediterranean."
He noted that there seems to be a pattern building up, as similar pressure systems impacted Cyprus on at least three instances in June.
"If you recall, we witnessed a drop in temperatures and rainfall during three out the four weekends in June. The atmosphere is behaving as if it is still winter."
"Germany experienced two seasons in just a week in June. While it was experiencing very hot weather, things turned around and winter returned with temperatures dropping to 5֯ °C (41 °F)," he continued.
Climate change plays a role in a number of recent bizarre weather incidents, Nicholaides stated.
The weather is forecast to start off mainly fine on Friday, July 10, but increased cloud may lead to isolated showers and the possibility of thunderstorms in the mountains and inland.
— The Watchers